Our Programs and Services
FCS provides programs and services that assist vulnerable people and help to strengthen, protect and preserve the dignity and independence of those in need. The agency serves nearly 8,000 people annually, addressing homelessness; neglect, abuse and exploitation; health and respite care; financial instability due to physical, developmental or mental disabilities; childhood literacy and obesity; Medicare counseling; and long-term care assistance. FCS is also a leading volunteer organization. Our programs and services are provided regardless of age, gender, sexual orientation, race, religion, ethnicity, language spoken, physical or mental ability, or financial status. While FCS partners with many organizations and government agencies, in many cases, the agency is the sole county-designated provider of unduplicated services and the last hope for individuals, families and seniors in crisis.
Adult Protective Services (APS)
If you are aware of or suspect abuse, neglect or financial exploitation of a vulnerable adult living in Monmouth County, please call APS at 732-531-9191.
If you are aware of or suspect abuse, neglect or financial exploitation of a vulnerable adult living in Middlesex County, please call APS at 732-745-3635.
Family & Children's Service is the Adult Protective Services (APS) unit for Monmouth and Middlesex counties. APS programs have been established in each county in New Jersey to receive and investigate reports of suspected abuse, neglect and exploitation of vulnerable adults living in the community.
Who is at risk?
Vulnerable adults who cannot adequately protect themselves

The frail, mentally or physically disabled

Those who live alone and are isolated with no family or other social support
What is Elder Abuse?
Abuse may be physical, psychological, sexual, or financial
Physical - May take the form of caregiver neglect when the vulnerable adult's basic needs are not being provided for adequately.

Financial - Exploitation may occur when a vulnerable adult is grossly overcharged for goods or services, or otherwise cheated out of their money. It may also occur when a friend or family member takes advantage of the vulnerable person.

Self-Neglect – This usually occurs when adults are unable to care for themselves properly because of mental or physical illness. They may need financial or physical help, but lack the capacity to see it.
Who can help?
Family & Children's Service can begin to help with just a phone call.
Reports may be made by anyone, and the person making the report is assured anonymity if requested.
When a report is received:
APS sends a trained worker to the alleged abused person's home to assess the validity of the report.

If the report is confirmed, and the vulnerable person is willing to accept help, the worker will take steps to identify and put in place those services that can help protect the vulnerable person.

Services may include home health care, meals on wheels, mental health services, legal and consumer protection services, and other vital community-based or long-term care services
Community Support Services (CSS)
At Family & Children's Service, we believe that our Mission to provide compassionate care begins with each of us and extends to all people, which is why we provide an array of programs and services to help those with chronic physical or mental disabilities continue to live with dignity in their home of choice for as long as possible.
Whether you are caring for a loved one, or are struggling to meet your own daily needs, we may be able to help.
Our Community Support Services include:
Statewide Respite Care Program provides eligible Monmouth County residents with assistance, including home care, adult day care and inpatient respite care, to support caregivers who are caring for an elderly or disabled relative or friend.
Home Care & Respite Grant Assistance provides home care assistance and caregiver relief to qualified Monmouth County residents
Home Care Service
Choosing Home Care for yourself or a loved one can be a difficult decision. Aside from the usual questions about the length and type of care that is needed, most families have a deeper concern: whom can they trust?  
At Family & Children's Service, we know that trust is an important part of our services. For over a century, we have been an essential and reliable community resource for individuals and families who need a helping hand.  Our Home Care Services helps hundreds of individuals remain at home, or return home sooner while recovering from illness, surgery or other medical conditions, to enjoy the comfort of their own home. We provide Certified Home Health Aides (CHHAs) and supportive care aides (companions) in private homes, assisted living facilities and other settings throughout Monmouth County.
FCS is a New Jersey State licensed and CAHC accredited Home Care Agency serving Monmouth County. Our professional and dedicated staff is committed to the care and well being of our clients. We work closely with individuals, families, medical professionals and referral agencies to develop a personal plan of care for each client. Whether a client requires just a few hours of care each week, or round the clock attention, we are here to help.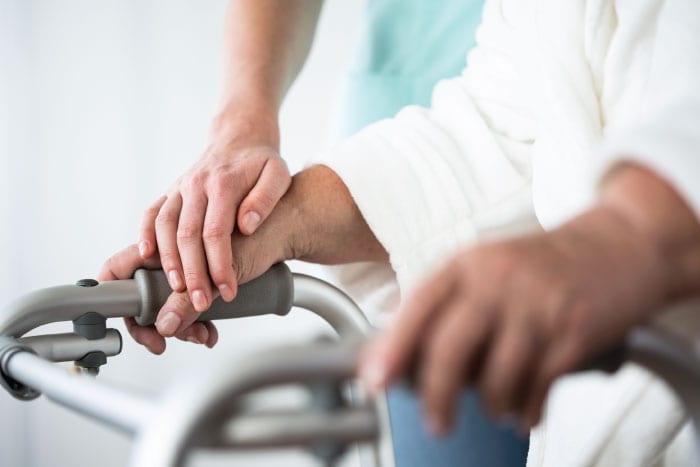 When is Home Care appropriate?
Following a hospital stay

For an injury or illness

When recovering from an accident, stroke or heart attack

Following surgery

When caring for a family member
Methods of payment:
Commercial Insurance

Long-term Care Insurance

Private pay
Working under the supervision of a registered nurse, our aides can provide:
Private-duty Home Health care

Assistance with bathing, showering, toileting, dressing and grooming

Assistance with transfers and ambulating

Meal preparation

Shopping and errands

Live-in aide
Providing personal care and services to support your choice to remain independent at home.
Medicare Counseling (SHIP)
The State Health Insurance Assistance Program (SHIP) provides free help to New Jersey Medicare beneficiaries who have problems with, or questions about, their health insurance. SHIP is a statewide program sponsored by the New Jersey Department of Health and Senior Services with major funding from the U.S. Department of Health and Human Services' Centers for Medicare & Medicaid Services.
Medicare beneficiaries frequently have questions about benefits and claims, supplemental policies, and long-term care insurance. Volunteer counselors, trained in areas of health insurance coverage and benefits that affect Medicare beneficiaries, provide information and assistance for dealing with claims and in evaluating health insurance needs. Counseling is free of charge and there are locations throughout Monmouth County.
To find a counselor near you, please call 732-728-1331.
Our CEO discusses SHIP on SCAN in 2019
Operation Sleighbells
Operation Sleighbells is our signature program, tracing its roots to the start of our agency in 1909 when a group of Long Branch community leaders pooled their resources to provide gifts to children in need during the holidays. That original gesture evolved to include the distribution of food and coal and other necessities, and later expanded to provide essential social services for individuals and families throughout Monmouth County.
Today Operation Sleighbells serves more than 1,500 children annually by enlisting hundreds of local businesses, churches, organizations and families to donate warm coats, hats, gloves, toys, and infant necessities to families who may be struggling during the holiday season. The program is unique in that is preserves the dignity of participating families by requiring that both the sponsor and the recipient remain anonymous.
If your family would like to be added to the FCS Operation Sleighbells gift list you must sign up in person on the following days and times at the FCS office at 191 Bath Avenue in Long Branch:
Wednesday, October 2nd 9 AM – 3 PM
Thursday, October 3rd 3 PM – 7 PM
Friday, October 4th 8 AM – 11 AM
This year sign-ups may close if we reach our maximum number of families.
Please bring a photo ID for yourself and birth certificates for all children you wish to enroll in the program. 
Usted se ha comunicado con la Operacion Sleighbells – por favor preste atención al siguiente mensaje ya que ha cambiado el procedimiento para los recipientes. Si su familia desea ser agregado a la lista de regalos usted debe registrarse en persona los siguientes dias y horas a nuestra oficina en el 191 Bath Avenue, Long Branch:
Miercoles, 2 de octubre 9AM-3PM
 Jueves, 3 de octubre 3PM-7PM
 Viernes, 4 de octubre 8AM-11AM
Este año la registracion sera cerrada cuando alcancemos el maximo numero de familias.
Usted tiene que traer su identificacion con foto y el certificado de nacimiento para cada niño que usted quiera que reciba regalos. 
If you would like to volunteer with Operation Sleighbells, there are many ways to help!
Adopt a family
We'll provide the ages, sizes and wishes of each child in a registered family. Some sponsors also provide gifts for the caregivers and create a basket of non-perishable food for the family's holiday dinner.
Host a collection drive
We'll provide sleigh tags to hang on a tree at your workplace, school or club. Each tag lists the first name of a child with his or her age, size and holiday wishes. Employees or group members can then select a tag from the tree and buy a gift for that particular child.
Donate gifts
We gladly accept new, unwrapped toys, books, pajamas, coats, hats and gloves for children, ages 13 and younger. We also accept donations of infant supplies include diapers and wipes. We will sort and distribute all donations based on the needs of those registered for the program.
Purchase gift cards or donate directly to the program
If you don't know what to buy, let us do the shopping for you! We gladly accept donations of gift cards and monetary donations
Are you interested in volunteering with Operation Sleighbells? We will work with businesses and organizations to coordinate a collection drive at your home or office. If you would like to participate, give us a call, or email us at swhite@fcsmonmouth.org
Representative Payee (Rep Payee)
For people with serious cognitive, mental or developmental disabilities, knowing how to manage money properly can mean the difference between living independently, and becoming homeless. Failure to pay the monthly rent or bills can result in the loss of utilities, credit termination and even eviction, placing vulnerable individuals at risk and increasing the need for intervention services.
As a designated Representative Payee, Family & Children's Service is approved by the Social Security Administration (SSA) to assist individuals and families who are unable to appropriately manage their finances due to physical, mental or emotional impairment and/or substance abuse. Rep Payee clients may be young or elderly, developmentally disabled or suffering from drug or alcohol addiction or mental health problems. They may be referred to FCS by a local social service organization, a mental health facility, the NJ Division of Developmental Disabilities, the SSA, the Veterans Administration and/or a private physician.
Our qualified, professional staff serves as the client's money manager, paying monthly rent, utilities and other important bills on their behalf. We have a strong commitment to each client and maintain responsibility to ensure that his or her daily basic life needs are met by:
Distributing clients' funds most effectively

Working with social workers to determine the best plan for each client's monthly budget

Working with the Social Security Administration to exchange information and ensure clients' funds are continual
Conserving and protecting any excess funds the client may possess to his or her benefit

Preventing clients from becoming homeless, which in turn improves their quality of life and reduces the need for intervention by the Monmouth County Division of Social Services
The Representative Payee Program is fully bonded in the state of New Jersey. There is a nominal monthly fee based on client's ability to pay.
Volunteer Services (RSVP)
Healthy Buddies/Reading Buddies pair specially trained volunteers with at-risk elementary school children
to advance early reader's literacy skills and promote healthy behaviors.
Healthy Buddies
FCS developed Healthy Buddies in response to the startling increase in childhood obesity nationwide and the growing numbers of young children and adolescence who are at-risk for obesity here in New Jersey.
Mimicking the format of our Reading Buddies childhood literacy program, Healthy Buddies partners senior volunteers with students, grades 3-5, to help them develop the knowledge, skills, attitudes and behaviors needed to maintain and enjoy a healthy lifestyle.
Using an evidence-based curriculum, specially trained volunteers guide students in making healthy choices by leading nutrition lessons, engaging in physical activities and providing healthy snacks. Each volunteer works with the same small class of students every week throughout the school year. This unique partnership helps promotes healthy lifestyle experiences that can be shared across generations, bringing empathy and compassion to a topic sometimes fraught with anxiety and frustration.
Healthy Buddies, which began in two underserved Monmouth County schools in 2012-2013 school year, expanded to four schools during the 2013-2014 school year. The program now has 16 senior volunteers who teach the Healthy Buddies curriculum to more than 175 students, in eight classrooms.
Reading Buddies
Reading Buddies engages senior volunteers in promoting childhood literacy in underserved Monmouth County public schools. Launched in 1998 with eight volunteers and 40 students at one school, Reading Buddies currently serves over 1,600 students in 79 classrooms in 16 Monmouth County public elementary schools. Today nearly 200 Retired and Senior Volunteers read to the same small groups of students each week throughout the school year using a read-aloud format that augments the school's regular reading curriculum. Reading Buddies remains the only in-school program of its kind in Monmouth County.
Guided by the tenets of the "America Reads Challenge Act of 1997", whose goal is to develop reading proficiency in every child in America by the time they reach the end of third grade, the program's aim is to improve reading proficiency, and by doing so, provide educational benefits that lead to success in school and career. According to the 2014 Kids Count Data Snapshot from the Annie E. Casey Foundation*, 66% of all fourth graders in the U.S. read below proficient levels, with significant disparities in reading proficiency by race, income, disability status and among dual language learners. In New Jersey alone, 58% of fourth graders read below proficient levels. Studies also show that an anticipated decrease in future high school and college graduates will eventually leave the U.S. with a workforce that lacks the necessary educational skills and credentials to prosper and grow our economy. The goal of Reading Buddies is to help reverse this trend by teaching literacy skills during the most important and influential time in each child's development, before the age of 8.
Reading Buddies' intergenerational approach to reading goes beyond fostering the literacy skills essential to future success. It also provides appropriate role-modeling for young students, builds confidence and mutual respect, and broadens students' understanding of the world around them.
If you are interested in becoming a Healthy or Reading Buddy volunteer, call our office at 732-222-9111.